A sudden desire to revamp the living room? Let yourself be enchanted by the elegance of the duck blue color! Neo Art Deco, classic twist, ultra-contemporary, ethnic chic, or baroque: whatever your favorite style, it is the perfect choice for a vibrant interior with a luminous and sophisticated touch! Here are 10 ideas for making an inspired duck blue living room.
Here, yellow offers a luminous shade, and it is a striking magenta that invites itself into this spectacular and very cozy living room. We like the choice of precious materials: sun mirror with aged gold effect, shimmering velvet. We find a little neo art deco boudoir spirit but not too much!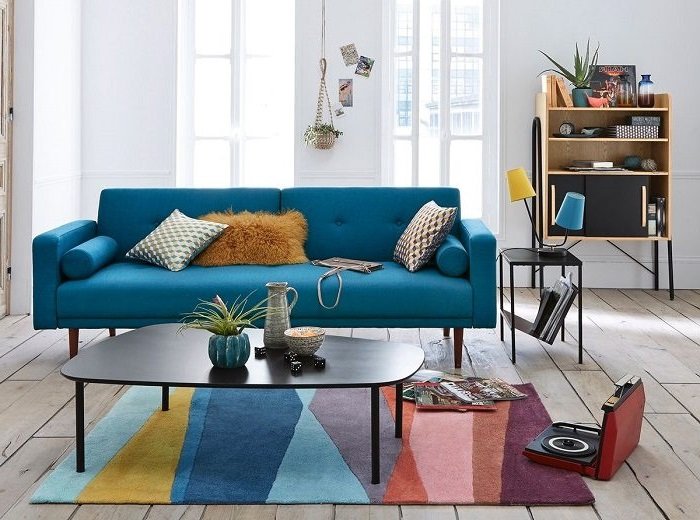 Mixture of genres – and eras – very successful in this show! In terms of colors, we find the symbolic palette of the neo Art Deco style, respected to the letter. But on the design side, this pretty teal blue living room frankly ogles the 1960s. A daring idea, but competent to stand out while sticking to trends!
This duck blue and yellow living room offers a homecoming, with a resolutely Sixties spirit. We like the choice of furniture made in the essence of golden wood, which helps to give all its retro character to the room.
This neo-Art Deco teal blue living room adopts two essentials of the genre: the print inspired by iconic creations of the 1920s and the velvet pouf surrounded by brass. The sofa has a resolutely modern design and a sober color. A great exercise in style for a living room brilliantly mixes a retro atmosphere and a contemporary spirit.
Do you have a crush on the retro duck-blue living room, but you like sobriety? Dramatize this very theatrical color by drawing inspiration from the 1970s. Natural rattan and cushions in sober colors will suddenly take on a lot of allure, and the atmosphere will be sweeter than ever!
Transform a stylish living room into a very chic contemporary living room? Nothing's easier! Just opt ​​for duck blue. If you are worried about doing too much, copy without complex this lovely living room in sober colors, illuminated by the duck blue sofa with generous seats, which invite you to curl up!
Daring, but so spectacular, this duck blue living room worked in monochrome! The door, walls, and ceiling play the card of the total look by adorning the darker version of duck blue: petrol blue. In this very cozy setting, the duck blue sofa seems to shine.
This duck blue living room with a baroque spirit does not lack in playfulness! We love the plaster moldings that come off the ceiling to mingle with the mirrors on the wall. Small touches of gold and silver illuminate this decor, reminiscent of Alice's very chic, trendy version in Wonderland. Very successful!
The duck blue lounge opens the door to all tastes! Because with this very chic color, even the most improbable mix and match become stylish and surprisingly consistent. And in this duck blue and gray living room, everything seems possible! Typically Scandinavian design, golden wired furniture, and lighting with a 100% factory spirit come together in a disturbing harmony!
This duck blue living room is an extension of the open kitchen to create a space of beautiful unity. We mainly fall for the unexpected choice of an exotic wood species. Very present, wood not only warms the atmosphere. It sets up an irresistible exotic touch, skilfully underlined by choice of sober colors. Not shying away from nothing, this living room also offers a delicate touch of gold and a touch of velvet. Half-precious, half-organic: it's all good!